It is never too late to check the waters and analyze possibilities of entering into what undoubtedly will be soon the first world's leading economy. A country with a strong and resilient economy that not only has a growing middle class with medium-high purchasing power and interest in imported consumer products, but also a modern industry that demands more and more higher quality domestic and imported equipment, such as machineries, high-tech components, knowhow and raw materials.
The continuous upward trend and figures for imports of goods into China over the last 20 years are evidence of a reality that is already palpable for those of us who live in this part of the world.
Exporting to China has become one of the greatest commercial opportunities for producers around the world, and in their internationalization plans they should consider this challenge and study the possibilities of achieving it.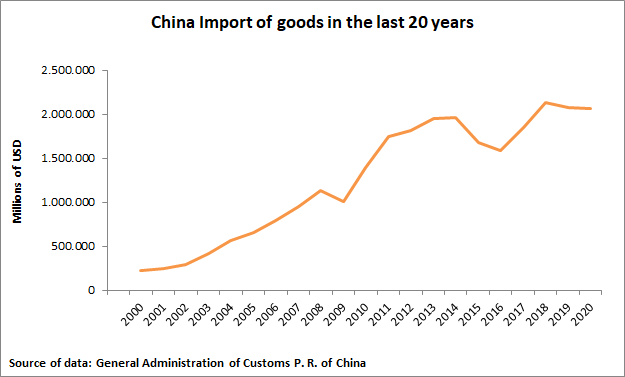 Knowledge of the culture, the language and the particular way of doing business in China are definitely decisive for all those companies interested in successfully offering their products in the immense and booming Chinese market. ASK China Consultants, aware of all the difficulties of accessing this wide market and its great potential, offers to its clients the following services:
Search for importers and distributors at national or provincial level.
Adaptation of the product according to market requirements or uses.
Organization of sales logistics.
Planning and organization of participation in specialized fairs.
Identification and access to the best distribution channels.
Media relations.
Product promotion.
Control and follow-up of sales operations.
ASK China Consultants makes its import license available to clients interested in offer their goods, at wholesale or retail level, keeping full control of the distribution chain and trademark.